The place has received its name by combination of words Solang (Nearby village) and Nullah (water streams from mountains). It is situated on way to Dhundi from Manali.
Heavy snow fall in winter makes it heaven for snow skiing. Auli and Solang have fine slopes for skiing and umber of national/international competitions are organized at the place. ABVIMAS Manali has their establishment there and conduct skiing course from Jan-March every year. Solang also attracts number of leisure tourists who just want to enjoy snow. In summer weather here is very pleasant and it becomes tourist attraction because of scenic views around the place (snow Peak Mountains and water streams). Main activities include Jorbing, Para Gliding and horse riding.
To reach this place, one can follow direct road from Manali to Dhundi.Other way to reach is by trekking, where one passes through Old Manali,barua and bahang villages.  Trekking will involve small mountain water streams on the way. Best time for trekking is May to November, since snow will not be there.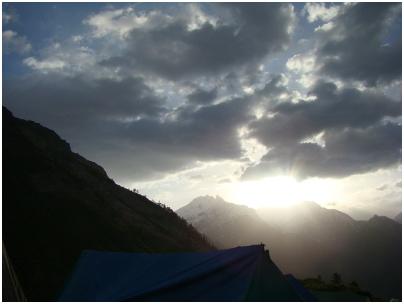 There are many options of accommodation options are available as many hotels have came up recently. Adventurers will like to stay in tents and be near to nature.
Environment concerns are there due to Rohang tunnel. Tunnel will start from Dhundi and will lead up to Lahaul valley. This may lead to short term increase in number tourists for Solang Nala but change in environment conditions can have long term impact.