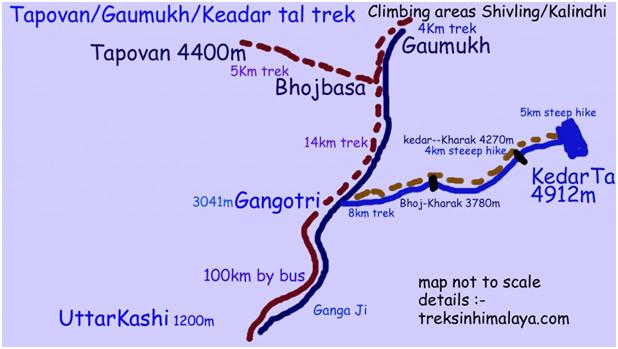 I don't think there is anything more peaceful than sitting near The Ganges in Gangotri and being part of Evening Aarti. This trek takes us to starting point of the river and is considered as the first stop for any treks further on the route.
Ganga tera pani Amrit, Jhar-Jhar Behta Jaye
                                                        Sadiyo se iss dDesh ki dharti tujse Jeevan Paye
Day1: Gangotri
Trek starts from Gangotri, One has to reach Uttarkashi before 2PM (after that there are very few buses/jeeps to Gangotri) and catch bus/cab from here to Gangotri.
Gangotri is one of the char-dham in Uttrakhand and a important pilgrimage for Hindus. Beautiful temple built near the Ganges attracts devotees from around the world. Ganga ji's arti takes place twice in a day Morning 6:00AM , Evening 6:45 PM at river side and 8:00PM at temple. Lots of people keep visiting the place so food & accommodation is not a issue here. Years ago, Gangotri glacier use to start from here. Due to melting, it has gone till Gaumukh
Day2: Bhojbasa
Trek starts by entering Gangotri-Gaumukh forest range. Permission for the entrance need to be taken at Kankhu post, it is 2 Km from Gangotri.
Next stop on the way is Chidwasa , it is 7Km from Kankhu check post and takes about 2:30 to 3 hour time. There is small tea shop which is open in season (May/June) while in rains there is no guarantee. After covering further distance of 5Km, one will reach Bhojbasa. Bhojbasa has GMVN and Baba ashram. Baba ashram provide food & accommodation.  One can spend night here before visiting Gaumukh next day.
Day 3: Gaumukh
Gaumukh is 4Km from Bhojbasa, trek should start early in the morning. Gaumukh is the place where Ganga starts its 2640Km journey to Bay of Bengal. Environmentalists have done wonderful work here, earlier there uses to lot of small shops around which were polluting the glacier ice.
After spending some time here, one can head back to Bhojbasa and rest for next day trek.
Day 4: Tapovan
After having good sleep, it is time to start trekking to Tapovan. It is 5Km little steep trek, it is again advisable to start trek early in the morning. Tapovan mean Tapasaya (spiritual practice) + Van (Jungle), earlier times Maharishis & Sages use to come here to practice Yoga and Tapasaya of supreme power. There is Bengali Baba ashram (inside a cave), one can stay here for night or head back to Bhojbasa for night stay.
Day 5: Gangotri
Start your trek early may be around 6AM, if you want to catch cab to Uttarkashi on the same day. It will take around 3-4 hours to reach Gangotri.
Note:
This trek was not been done by me, I have gathered all this information on way to Kalindhi Pass trek. It is advisable to hire a guide/porter on this route. Due to continuous melting of glacier and rains, route after Bhojbasa have changed over years and there is not well defined trail after Bhojbasa.