Why is it famous ??
Roop Kund is famous because of 500+ human skeletons found in the lake around 1942 by a forest ranger. View of Trishul (7120m), mystery of skeletons and 4 days of hard trek has made it one of the famous trek for experience and intermediate trekkers.Roop kund lies on way to Nanda Devi Raj Ghat festival, which is celebrated once in 12 years and it is believed all those people may have died on their way to the festival due to hailstorm.
Further trek from Roop kund is towards Homkund which becomes little more difficult as height increases and climbing gear like sleeping bag, tents and warm clothes becomes more important.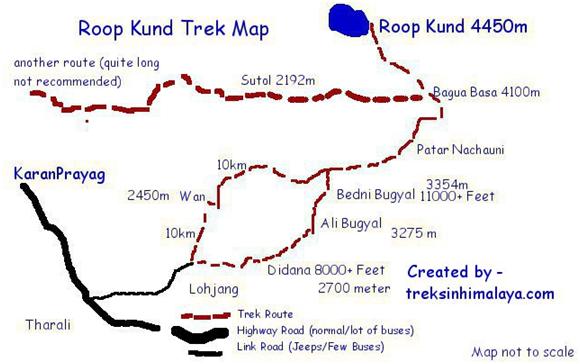 Starting point – Starting point for the trek is Lohjung, It is small town situated in Shivalik range of The Himalaya. To reach Lohjung. –
Delhi to Rishikesh via Bus (Reach Rishikesh early morning)
Rishikesh to KaranPrayag via Bus (Joshimath/Badrinath buses go through KaranPrayag)
KaranPrayag to Tharali (Bus/Jeep whatever available)
Tharali to Lohjung (most of the time you will get Jeep)
From lohjung there are two ways to reach Bedni Bugyal (Bugyal means grass land in the mountains) one is via WAN and another one is via DEDINA
Trek details – day by day itinerary
Day 1 – Start early morning to reach WAN this will be around 13 Km of trek, being initial part of trek , this is easy to cover and don't forget to capture beautiful view of The Himalaya.There is GMVN guest house at WAN and can be booked, more information available on http://www.gmvnl.com/newgmvn/touristbunglows/index.aspx
Day2 – Today You have to reach Bedni Bugyal. Height will slowly reach 11000+ feet and trek will start becoming tougher on the way. You will pass through Gharoli Patal on the way and distance covered will be around 12Km.Bedini has small Kund here, Tourist can visit the place today itself, as next day trek is little tougher that today.
Day 3 – From Bedni to Bagua Basa our next stop, distance is about 9Km, but will take some time as height at Bagua Basa will become 14000+ feet and also path is little steeper. Here one should go for acclimatization walk in the evening to get accustomed to the height..
Day 4 – Today is Roop Kund day.
Roop Kund having height of around 16500 Feet, It is recomened to staty in Bagua basa only. People should start early in the morning and can spend some time at Kund.Total distance covered will be around 10Kms and you should be back to Bagua basa by evening.
Day 5 – Trek back to Ali Bugyal . While coming back, trek becomes easier and height will slowly start decreasing which helps to gain some speed (at the same one need to be cautious as sharp turns and sudden downfalls can lead to injuries)
Today's trek is till Ali Bugyal.
Day 6 – Trek to Lohjung
Now follow the other way to comeback Lohjung, It will pass through small village Dedina. Total distance covered today will be around 21 Km, It is recommended to start trek earl in the morning to avoid getting stuck in the dark.