Har ki Doon means God's Valley and is one of the famous treks in Uttrakhand. It takes 6-7 days to complete the trek. Trek starts from Sankari and it takes about full day from Dehradun to Sankari, One can reach Purola/Mori and then take late evening share jeep to reach Sankari.GMVN at Sankari can be booked in advance to avoid any accommodation problem later on. There is a check post at Naitwar where national park charges are charged, it is about 2 km before Sankari.
Your trek plan will depend on how you want to cover your distance till Taluka, some people prefer to walk to this place and this will take 6 days while others by taking Jeep will take 4 days till Taluka.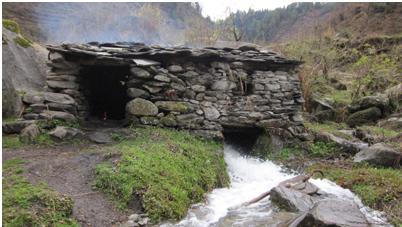 Day 1 Trek to Seema from Taluka
It is 14 km trek on bank of 'Tons' river and is easy in the start. There is village Ganger after 10 km and small tea shop over here- serves Tea, Maggi and Namkeen. Trek crosses the river on both sides several times and there is picturesque water 'Atta Chakki' on the way.
There is forest rest house and GMVN at Seema which can be booked before or you can book it on the spot depending upon the availability of the place. (Picture of Atta Chakki on the way)
Day 2 Trek to Har ki Doon
It is about 10 km trek from Seema to Har ki Doon and takes about 4-5 hours depending upon your speed; you may see snow in the last 2 Kms of the trek.
There is Forest rest house and GMVN at the top, which you will have to book before the trek or you have to tell Guard (Chowkidar) in OSLA to accompany since they open the place only when some tourists are there. Chowkidar makes food also in Har ki Doon however it is advisable to carry some food along.
Some people go further on the trek, if you are planning to go further to HKD then choose months of May-end, June since there is heavy snow in April.
 Day 3 Trek back to Seema/Osla
You can return today from HKD to Osla/Seema or go to Ruinsara Tal depending upon the number of days and cloths/food you have. Guide is recommended for Ruinsara Tal trek.
Day 4 Trek back to Sankari
Today you will have to start early from Seema to reach early Taluka so you can carry early morning vehicle to Sankari.