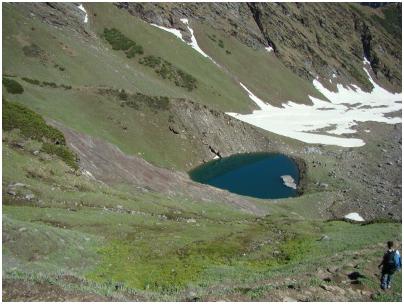 This trek has been done as a part of training in Basic Mountaineering Course at ABVIMAS Manali. Beas River separates Pir-Panjal and Dhauladhar ranges of Himalaya
Day 1: (Trek to Solang)
Trek started from Manali. We left at 8:30AM, first we went to old Manali. We went through barua, bahang villages. It was a total of 13Km trek. Shops were there on the way where one can buy namkeen and other edible stuff.
We reached there by 2:00 PM. We stayed there in ABVIMAS building while one can also stay in hotels nearby. This place is also famous for winter sports, in winter there is good snow fall at this place, national/international competitions are organized here while in summer paragliding/zorbing etc events are there for tourists.
Day2: (Trek to Bakar-Thach)
We were ready with our rucksacks in the morning. Today we will be travelling 11km of distance which includes 7Km of road and 4km of trek. We reached 'Dhundhi' around 10 o'clock.
Next was trek which involves passing across small stream. We had crossed half the distance and it started raining. It took us 3 hours to cover 4 KM and we reached our camp site at 'Bakar-Thach'. From here Beas Kund is 4KM.
Evening was spent here playing volleyball and clicking photographs.
Day 3: (Trek to Beas Kund and return to Solang)
We trekked to Beas Kund (view of Beas Kund from top in picture above). It involves crossing Moraine of Beas Glacier; one can find its way through the Moraine using Cairn (stone structures). We reached there at 7:30 AM and after spending 2 hour we left the place. One can leave directly for Solang (we stayed in Bakar-Thach for next 10 days).
Day4: (Trek back to Manali)
This day can be utilized for trek to Manali and evening can be spent in roaming around Manali or visiting 'Vashisht temple' where natural hot water geyser is there.