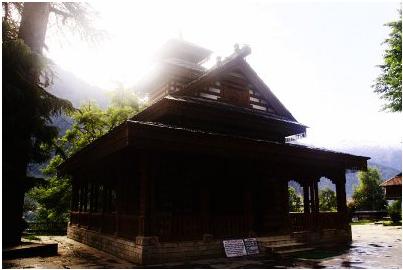 Manali is a wonderful place with scenery beauty, snow Cap Mountains, beautiful weather and good people. Its old name was Manu-Alaya which was later named to Manali. It is situated in Beas River Valley.
I have spent one month in Manali as part of my BMC @ ABVIAMS Manali. During this one month, I got opportunity to explore Manali from various perspectives. I will explain some tourist places which can help some of my friends to plan their trip.
I named this article Manali cottage because once being in Manali as tourist, you always wanted to stay in this place forever by owning a small cottage of your own.
Traveling to Manali
From Delhi – It is 14-15 hours journey from Delhi; one can catch overnight bus from ISBT.
From Chandigarh- Travel time is 10 hours, Take any overnight bus from Sector-43 bus stand; Buses are available throughout the night.
From Ludhiana-There are few buses in evening from here and take 10-11 hours to reach Manali.
Places of Interest
Hadimba Devi Temple It is ancient temple of Hadimba devi ( Pandav Putra Bhim's wife) who gave birth to ghatothkach(warrior in MAHABHARTA). Temple is situated on right side of Beas River and is almost 3-4Km from Bus stand. I will recommend walking to this place. Place is well maintained and small shops are there for shopping. Picture attached
Shuru Devi Temple Shuru devi temple is situated on left bank of Manali one need to reach Aloe before reaching temple. Auto-Rickshaw is recommended as place is around 5-6Km from Bus stand. This place again has beautiful view of mountains and much recommended for people who look out for some time on their own.
Vashisht temple Temple is named after Vashishta (Brahma's mind son ) and guru of Shri Ram. Temple is situated on highway towards LEH-LADAKH. It offers hot water springs; we had enjoyed lot at this place during our visit. Visiting this place is must as one get to appreciate the power of nature which gives hot water amid cold places. It is 3-4 Km from Bus stand, again auto is recommended.
Mall Road As all Himalaya station, Manali also has a beautiful mall road where one can spend evening easily roaming here and there. There is one national park on upper side of mall road, go there if you have some time with you.
Old Manali It is some 3-4Km from bus stand and height of place is 2000m, 200m more than Manali. This place is best for budget travelers and mountain lovers. There is no. of Continental cafes there and accommodation is provided at reasonable price by hotel owners and adventure tour organizers.