Goecha La is beautiful lake situated in the eastern part of Himalaya, and is at height of 5000m.
It is a long trek and need 9 days to complete trek till Goecha la. Trek starts from Yuksom in west part of Sikkim and passes through kanchendzonga national park. It takes almost one day to reach Yuksom from 'Bagdogra' the nearest airport, if you reaches there in the late afternoon then you may have to take night stay in Jorthang and catch the next early morning bus/car to Yuksom.
Arrangements in Yuksom –
Hire a guide/porter and buy vegetables, atta, stove, oil etc. since there are very limited options of food on trek route.
You will have to take a the medical form from the Govt. Hospital in Yuksom and permission from Police station (register entry only).Final permission is given while entering the national park, there is check post after Yuksom village.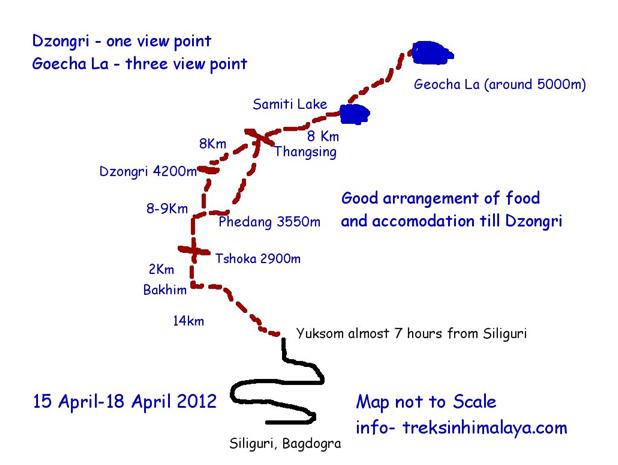 Day 1 – Trek to Tshoka
It is a 14 km trek till Tshoka from Yuksom and there is midway hut at Sachen where trekkers take rest and eat/cook their lunch. Before 2 km from Tshoka, you will pass by Bakhim where forest rest house is there, however partially destroyed by earthquake.
It is advised to carry 'A' shape tent since Dome tent does not help much, however at time of need you can sleep in dining room along with porters who come with tourist groups.
Day2 – Trek to Dzongri
It is another hard day, Trek start getting steeper and higher and take about 3/4 hours (depending upon your speed) to reach Phedang. There is water source available in Phedang some 2km off route; you will have to request your guide/porter to get some water.
Phedang to Dzongri is one more difficult path, first 1:30 hour is steep hike to reach deowali; Dzongri is visible from here and takes 30mins to reach.
Day 3 – Rest Day
After climbing for 2 continuous days, it is advisable to acclimatize and give yourself a rest for the day. In the morning (around 5:30AM) you can trek to nearest mountain and kanchendzonga is very clear from there.
Day 4 – Trek to Thangsing
It is 7-8 km trek. There is kitchen in Thangsing and one can stay relatively easy here as compare to Lamune. Leave early morning for Goecha la next day however it is difficult to make till third view point from here.
Day 5- To Goecha la and back to Dzongri
Advised to start early in the day since lot of distance is needed to be covered, reach Goecha la and back to Dzongri. One can also stay back in Thangsing however due to temperature condition it is better to be back in Dzongri.
Day 6 & 7 – Trek to Tshoka/Bakhim
Next two days are going to be steep down trial, first night can be spent at Bakhim and making the next journey easier till Yuksom.