Triund is a beautiful ground situated amidst Dhauladhar ranges of Western Himalaya and provides unparallel view to Hanuman Tibba which is the highest peak of this range.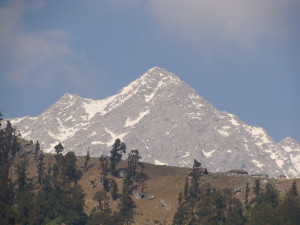 Trek starts from Dharmkot in upper Dharamshala (McLeodganj) and is easily accessible by two/four wheeler. It is advisable to start early in the day if you plan to come back on the same day. Total distance for one way trek is about 9Km and takes about 4-5 hour for normal fitness level.
On the route there are multiple scenic views of the mountains and enough places/cafes where you can just sit down and admire the Mother Nature or have quick tea/maggi to make it memorable.
Himachal Tourism Lodge is there on the top which can be booked in advance or there are tents available on the top if you have a plan for camping.There are lots of Tibetan Flags on the the Top as it is believed that prayers will go with to the GOD with the help of air.If planned in advances this trek can be extended upto Snowline.