Himalaya also called Abode of snow has always been source of inspiration for trekkers to explore far and further. It has it own place in the heart of trekkers/mountaineers. Trekking starts with smalls treks but once been to Himalayas, it becomes difficult to stop coming here. Himalaya,being youngest and Highest mountain range of the world, offers number of opportunities for trekkers and mountaineers in terms of small/difficult treks where you may need to stay in jungle for 3-4 days, experience culture of mountain villages and meet some of least touch civilizations.
Trekking is comparatively easier to mountaineering and you get enough time to admire beautiful snow covered peaks of Himalayas. From ancient times ascetics have been to Himalaya in search of peace and in the process they have made pilgrimage places all over on lower and central Himalaya. This will include Badrinath, Kedarnath, Hemkund Sahib, Vaishno Devi, Mansarovar Lake and many more.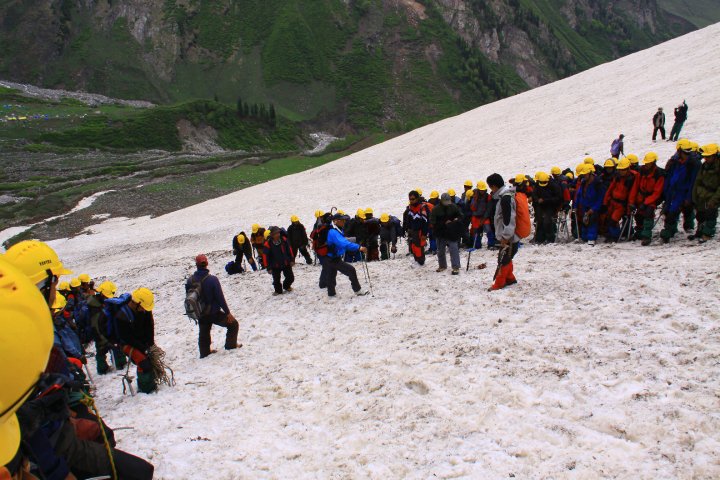 One also experience pure water and healthy environment. Even though being hard work of hiking, trekker return home rejuvenated and unforgettable memories from Himalaya. Some basic things which serious trekker (Trek of more then 2-3 days ) should consider is
Highly recommended  (Carry in diff Bag and keep always with you)
Lighter & Knife
Water Bottle or Hydration Packs
Torch (LED if possible) with extra batteries
Basic medication & Dry Ration (Chocolates will do)
Poncho / Rain-Cover
Toilet Paper / Soap
Recommended
Sleeping bag
Tent
Stove/Pots/Cooking – for long trek
Optional
Walkin Stick
Cap/Hat & Sunscreen Cream
"Those who imposed their human rules over the natural laws of the mountain were extremely lucky if they lived to regret it" Erik Weihenmayer .
Trekking manners
Greet people coming back/Going to trek and pass information about trek. (they can provide some imp information of the trek on your way)
Respect the culture of villages/countrymen on the way (Trekking is not possible without their help)
Keep walking distance between two trekkers (Never walk side by side, Try to walk in Queue)
Do not throw stones down the mountain and if you see any rock/stone coming down the mountain then shout 'Watch-out' so to warn other team members.
Don't judge distance of end point
Drink adequate water and replenish your bottles as soon water is available.
Ask for slow walkers to move ahead of the group (So they are not left behind)
Make your tent/rest place 60-70 meters away from the river/water source as animal come in night to drink (To avoid any potential conflict)
Read basic information of jungle where you are going to trek (carry snake bite kit if required)
In difficult trek, at least 2-3 members in team should have rescue knowledge to avoid any hazard.
Do not shout in night (it can attract wild animals)